Paramjit Kaur, Suveg Singh Khattra, Satwant Singh Kaleka, Prakash Singh, Ranjit Singh, and Sita Singh were murdered that day. Three other people were seriously injured. Photo credit: Kajal Magazine
---
Seven years ago today, on Sunday, August 5, six lives were taken at the Sikh Temple in Oak Creek, Wisconsin in what was then the deadliest hate crime attack in US history. People across the country, and the Sikh community in every part of the world, were shaken by this brutal act. The suburban community of Oak Creek, just outside Milwaukee, never expected their town to become the subject of global news because of mass violence.
The following day, Not In Our Town received a call from the City of Oak Creek seeking advice about action steps. This community was ready. A few days later, thousands of people gathered for a vigil in a city park near the Temple.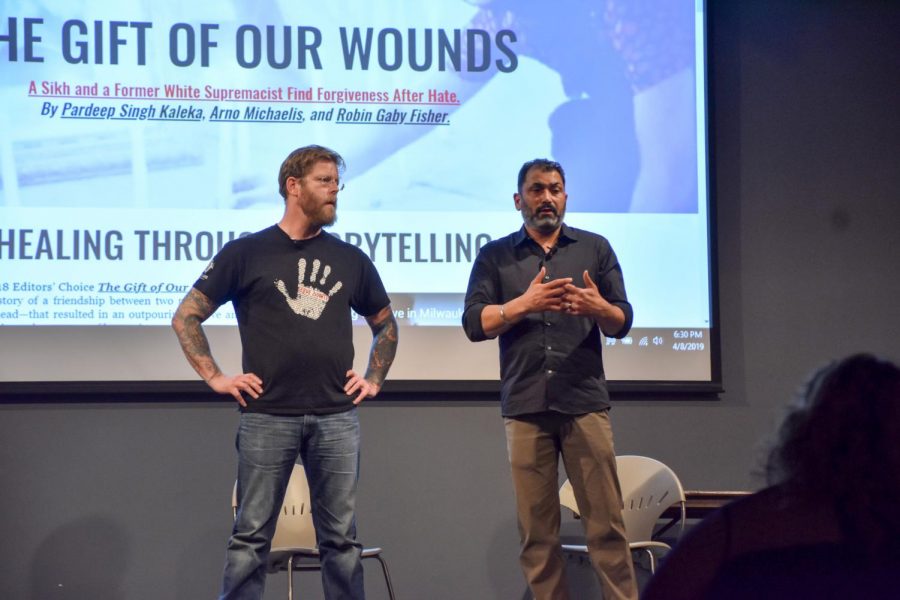 Images: [Top] Amardeep Singh Kaleka, Harpreet Saini, Kamal Saini and Amardeep Kaleka in Washington, D.C. at the Senate hearing on hate crimes Photo Credit: Russell Brammer [Center] Oak Creek Mayor Steve Scaffidi and Kanwardeep Singh Kaleka at the Chardi Kala 6K Memorial Run. [Bottom] Arno Michaelis (left), a former white supremacist, and Pardeep Singh Kaleka, the son of a hate crime victim, spoke on UW campus. Photo by Lydia Sanchez
Pardeep Kaleka, whose father Satwant was killed in the shooting, talked about the twist of fate that made he and his children late to arrive for services that day. Pardeep, his family and members of the Sikh Temple were joined by hundreds of others in his community, across faith and ethnicity, from the American Legion to local businesses, to learn about Sikhism and to begin building new connections in their city.
After he recovered from the 15 gunshot wounds he sustained while defending the Temple, Police Lieutenant Brian Murphy became a powerful voice standing up to hate and supporting the Sikh community. Police Chief John Edwards spoke up about underreporting of hate crimes to law enforcement leaders across the US. As Mayor Steve Scaffidi said at the time, "I promised the Sikh community I would not let this go. We have to do more to stop hate and gun violence." Steve continues to make good on his pledge and is now on the Board of Not In Our Town.
There is much to learn from all of these leaders and the residents of Oak Creek about how a community can heal and transform after deep harm. Today, Pardeep Kaleka is a leading voice in the fight against hate. He leads the Interfaith Center in Milwaukee and travels across the country with Arno Michaelis, a former white supremacist, who speaks about how we can learn to stop violence.
You can learn more and share their story with your community through the Not In Our Town film Waking in Oak Creek.
Resources