Watch the Trailer
Since the 1970s, thousands of refugees from countries like Afghanistan, Bhutan, Burma, Democratic Republic of Congo, Iraq, and Somalia have started new lives in Idaho. The new documentary American Beat: Cops and Refugees Join Forces in Boise weaves together three heartwarming stories that rise above the divisive politics of immigration: the groundbreaking efforts of Boise police officers to integrate and mentor refugees; the determination of a former Iraqi translator for the U.S. military who is putting down roots in a new country with his family and dreaming of becoming a police officer; and a portrait of Boise itself, coming together to show refugees from war-ravaged parts of the world that, in America, a united community can conquer tragedy and hate.
The Boise Police Department often holds information sessions at apartment complexes where many refugees live. Here, Saabo Ambar (center), who is originally from Somalia, discusses child safety laws with Dustin Robinson, Boise's refugee liaison officer (at far right). Pascal Sabima, of the International Rescue Committee, translates.
The town of Boise is the largest in Idaho with about 217,000 residents. According to Forbes magazine, it's the 15th fastest growing city in the United States. Part of that growth in recent years has been due to immigration. The state of Idaho has been a refugee resettlement arena since 1975, when it was established as the Indochinese Refugee Assistance Program to help resettle refugees fleeing the overthrow of US-supported governments in South Asia.
Initially, the program focused on refugees from Laos, Cambodia and Vietnam, but it expanded to include Eastern European refugees fleeing Soviet-era regimes. Most recently, Boise's largest groups have come from Iraq, Democratic Republic of Congo, Myanmar, Bhutan, Afghanistan, and Somalia. In an interview with American Beat producer Gail Ablow, Boise police Chief William Bones said, "We're seeing a lot more diversity in the population base when you walk down the streets."
It's not just in somebody's race or their religion, but it's in what they might be wearing — a hijab or traditional central African tribal wear. Depending on what part of the city you are in, hearing the languages spoken, seeing the different cultures, seeing the different coffee shop or tea shop, or the great ethnic restaurants that are starting to open — it's that kind of change.

We're starting to become more of a mixing pot, where we have always been so much of a homogeneous, white community.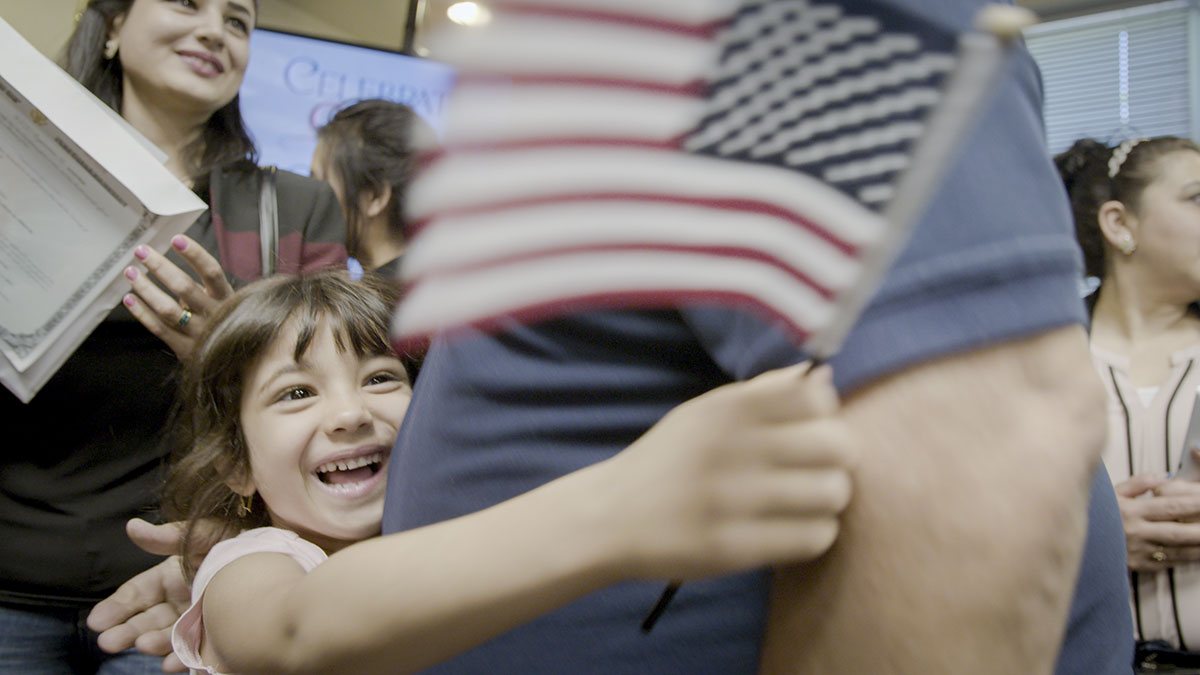 Boise residents celebrate after a US citizenship ceremony. A large majority of refugees arriving in Idaho are women and children.
In 2007, the Boise Police Department recognized the need for a full-time cultural liaison officer to build a bridge to these newcomers. "Our documentary is a way of understanding the infrastructure that the police department, local government, religious leaders, and the resettlement organizations have built," says Ablow, "and the sense of community that is cultivated and that becomes very powerful when the need arises." 
"It's been an incredibly tough two years for our refugee communities, also our immigrant communities, and any community that doesn't fit the traditional definition, sometimes, of being American," says Chief Bones. "The talk in the media and this vitriolic diatribe that's come across on social media or in print, it's horrible to see. And so we've seen those fear levels just accelerate through the roof." 
 "A lot of it is about building trust, and that's the number one thing.

Any community that might feel disaffected or alienated from the greater community is a community that police departments want to reach. It takes more focus and effort from the police side to create that trust with new refugees. The onus, and part of our duty, is to reach out to those communities.
You can watch the entire film [1] at Idaho Public Television's website through January 1, 2019 and below. You can also access an in-depth interview with police chief William Bones [2] about the refugee mentorship program here on the NIOT blog.
Watch the Film
Update
Officer Dustin Robinson told us that the original community members and the officers involved in the mentorship program have continued to work together to talk about activities and new training that they think would be helpful for refugees in Boise. One of their recent efforts has included creating a video that describes the process of a traffic stop explaining the laws around what refugees can expect if they ever get pulled over.
But Officer Robinson explained that that project has been on hold for a bit because of a tragedy that occurred earlier this summer in Boise. On June 30, 2018, a man stabbed nine people [3], all of whom were refugees, at an apartment complex in Boise. Six of the victims were children and one child died from her injuries. The suspect was immediately arrested. The investigation showed that the suspect had been a temporary resident at the apartment complex and was angry because he had recently been asked to leave. There is no evidence to suggest that the attack was a hate crime.
Following the attack Boise residents, service providers and other agencies stepped up to support the victims and reached out to support Boise's refugee community — a rally was held at City Hall [4], people dropped off flowers and other gifts at the apartment complex, and the children who lived at the apartment complex were invited to attend city summer camps for free. Service providers and refugee resettlement agencies gathered together for a meeting at the Boise Police Department to figure out how to streamline their services. Police officers say that through their efforts and especially the efforts of the American Red Cross, who led the response, the city of Boise was able to provide the quickest and most effective services possible. Those efforts are still ongoing as the victims continue to recover from their injuries and find housing where they feel the most safe. The suspect is also still going through the court process. Officer Robinson says, "We're still working through this, but we meet on an almost weekly basis to make sure everyone is getting the resources they need."
Saif still hopes to get a job at the Boise Police Department. He has expanded his job search to other departments in the area and is moving forward with his wish to become a police officer.